Are you looking for cute winter play clothes for girls?? We tend to stock up on pretty holiday dresses, and need more everyday clothes that are affordable, adorable, and comfortable. (aren't we all looking for that combo? 🙋‍♀️) Here's a shopping roundup that you can text to your mom as a "hint, hint! my child needs adorable clothes for all the photos I send to you!!" Ha ha. Our girl always opts for comfort over pretty dresses, so here's a list of the cutest sweaters, tunics, and leggings for everyday school & weekending. This is actually a round-up I'm sending to my own mother 😉 (hey, mom!)
Roundup: winter play clothes for girls
Good Taste Guide uses affiliate links
The Basics
Primary.com is the best shop for just the basics in solids and stripes. The clothing is well made and lasts a million washes. The tunic sweatshirt with leggings is adorable!
---
Matching outfits
Kate Spade's cheerful brand is just as adorable for kids!
---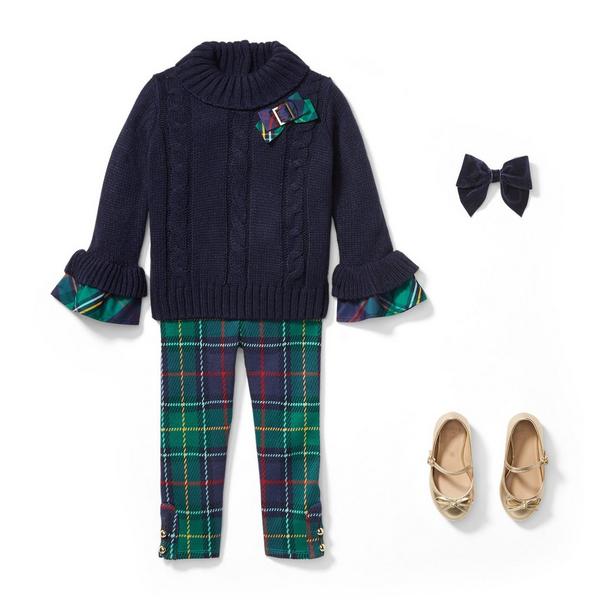 Sweater + pants
The ultimate preppy shop for kids.
Cute Tunic
A cute rainbow striped sweater!
---
Retro Leggings
How cool are these striped pants? Now on sale.
---
Sweater Dress
cute sweater dress from Mini Boden on clearance!
---
Cute Gingham + Plaid
all the cute gingham + plaid for the winter
Happy shopping! Hope you found some cute ideas to stock up on girl winter play clothes!!
More recommendations: classic southern baby clothes, more preppy play clothes, and our Turkey on the Table review