Let's talk about bathing suits. My goal is to be comfortable when I go to the beach and pool, not to show off my mom bod. If you're looking for a skimpy, sexy bathing suit… this is definitely not the post for you. If you're looking for a bathing suit that resembles a tennis outfit, I'm your girl. Cover up my thighs, Lands End. Make me comfortable.
This summer, Draper James teamed up with Lands End and created several cute designs. I got two tanks, a skirt, and a pair of shorts. I can mix and match it all.
Lands End has the MOST flattering and comfortable suits for women who don't like swimsuits 🙋‍♀️ and are running around, bending over picking up kids, etc. etc. at the pool and beach.
Good Taste Guide uses affiliate links to promote brands we love
The swim shorts are probably my favorite item of clothing for the summer. They are comfortable, flattering, and so easy to wear – they don't look like swim shorts, you could wear them to workout or run errands, too. I got them in solid navy.
Here are some cute options, on sale right now: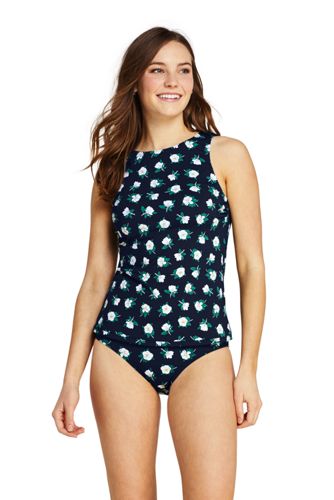 Tank Tops
Available in so many cute colors and patterns – I got this style in the Draper James light blue magnolia print and navy gingham.
Hope y'all are having a great summer!! PS – check out my summer picks page for everything I'm loving for the beach & pool this summer