Southerners love a classic Chippendale pattern as much as we love monogramming bonnets for our baby belles, so I've been on the hunt for the perfect set of white outdoor chairs for our little courtyard. Of course, I've found some would-need-to-win-the-lottery options and some more affordable options, too.
Also: I also thought it would be easier and less confusing for my design team (my mother and husband) to view one, organized blog post rather than an endless stream of text messages.
These all fit my design criteria, which is "what would Dorothy Draper" do? She'd like these… Particularly the first one. This chair actually says "y'all" and serves sweet tea.
Let's take a look at this eye candy, Dorothy Draper style white outdoor chairs:
Click on the photos to shop. Good Taste Guide uses affiliate links which means we may earn a commission if you shop the links. Thanks for supporting this blog!
Where to shop for outdoor chairs
Let's start with my favorite. If I had a budget of $1700 per chair, this is the exact chair I would choose: Glossy white bamboo Chippendale with brightly colored cushions from One Kings Lane. We could lounge on the porch in these, drinking Mimosas from crystal champagne flutes while wearing oversized black sunglasses and wearing vintage Lilly maxi dresses.
One Kings Lane
One Kings Lane has the most beautiful selection of furniture, but usually comes with a high price tag. This is an excellent source to search for inspiration even if you don't have a big budget!
Home Depot
Home Depot usually has a great selection of affordable outdoor furniture and accessories, especially in the spring! I ultimately purchased this classic white Chippendale outdoor chair. I love the arms, Chippendale pattern, and the price tag. Hint: it's less than $1799 per chair like my first pick.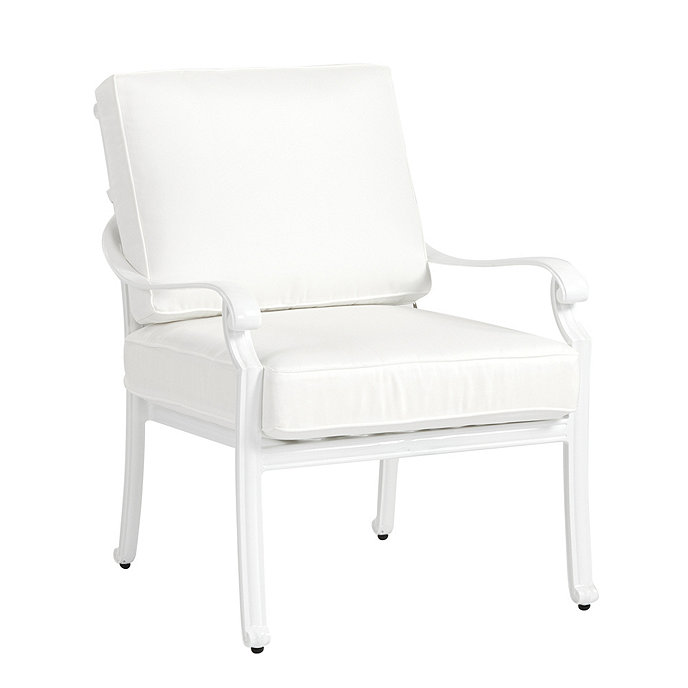 Ballard Designs
Another high-end, high-quality place to shop for furniture. The Maison Patio collection is stunning, with beautiful options for cushions (give me all the stripes!!) and furniture made out of cast aluminum.
Overstock
Wow, the selection is fantastic! These white cast aluminum chairs are similar to the Ballard Designs without the price tag. This is a great place to find beautiful outdoor furniture!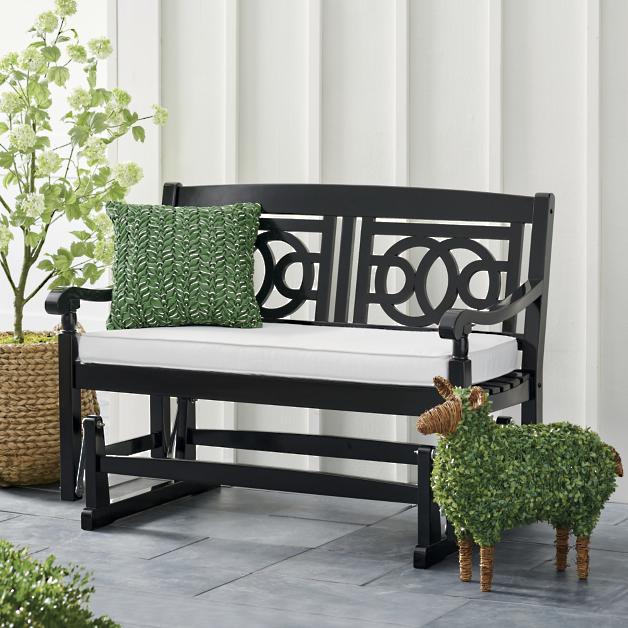 Grandin Road
Oh! All the fun preppy colors and pretty lines! Grandin Road's outdoor collection is spectacular, and more affordable than some of the other brands.
Happy shopping, ya'll!
More Dorothy Draper inspiration: octagon shelves, Christmas at the Greenbrier, a pineapple Chandelier, Dorothy Draper's Greenbrier paint colors (Jamaican aqua is my all-time favorite color)
Wines to enjoy outside on your new furniture: the best seltzer for wine drinkers, wines for cookouts, and a Fume Blanc for a pretty spring day
Shop White Outdoor Chairs